Case Left-Panel
Whenever you're in a case, the left-panel is visible in order to provide quick access to useful tools such as Uploads, Case Messages, Forms, Templates, and more.
Case Caption
The Case Caption section displays the case number, caption, and comments. All information in this section can be edited via Case Info.
Use the Case Caption, displayed in blue regardless of theme, to return to your default tab from anywhere in the case. Many users find this particularly useful when they are in the Forms & Templates section of MerusCase to navigate to their Case Activities.
Case Overview
The Case Overview submenu displays navigational links that mirror the case tabs displayed beneath the main navigation bar as follows:
Additional options may be displayed based on the firm's jurisdiction and default case type.
Files
Documents
Clicking on Documents in the left-panel will take the user to the Activity Tab with the filter pre-loaded to only display case documents.
Upload Files
Select Upload Files to view the Upload Tool. Upload single or multiple files via the drag & drop method or by clicking on the folder. The field for Attach to Case will automatically have the current case entered.
Note
The left-panel Drag & Drop Zone is hidden in this view as the folder displayed on this page functions in the same way as the Drag & Drop Zone.
Document Archive
Document Archive allows users to download a zipped copy of *all* documents within this case, as well as an Excel spreadsheet of all Case Activities. On click, the archive is automatically downloaded and a corresponding Activity is created in the case.
Forms & Templates
Use MerusCase to generate Court Form PDFs and Word Documents that are automatically filled with relevant case information that has been previously entered.
Refer to Forms & Templates for more information.
Pro-Tip
Forms & Templates is only visible from this panel when a user is in a case. Additionally, the options available are responsive to the Case Type selected for your current case.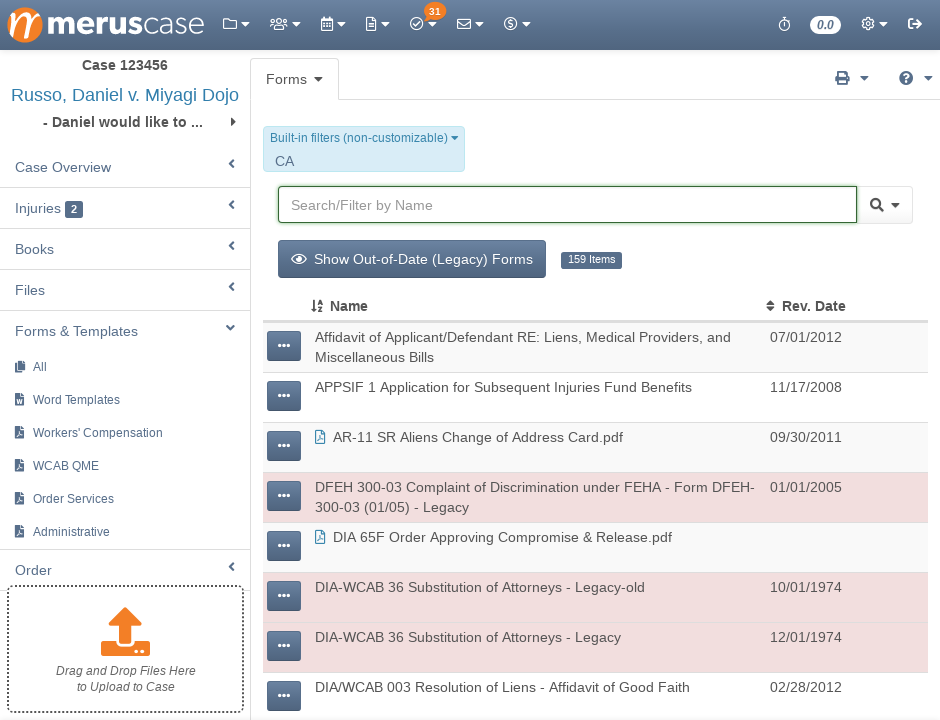 Drag and Drop Case Upload
Drag & Drop documents into MerusCase will upload and attach those files to the current case. These files will appear in the case's Activity tab.
Note
Any files uploaded via Drag & Drop, need to be individual files rather than batch scans as the system will not split the scan out from this interface.